Contact Us
12 Krasnopresnenskaya Embankment, Moscow, 123610
Ask a question
Dolph Lundgren: "It always feels like I am leaving too early..."
19 December 2016
While visiting Moscow the famous American actor, director, screenwriter and producer Dolph Lundgren stayed at the World trade center Moscow Crowne Plaza hotel and spoke with the WTC press office.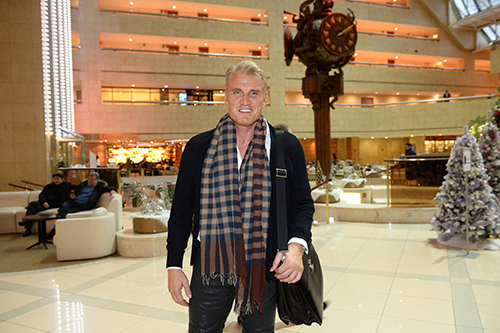 You are famous also for playing Russians in the movies. What are your favorite characters' traits of Russian people?

L.: I think that Russians are very tough and they are kind of colorful and charming, and I think they are very theatrical. It is good when you are an actor because you can make a lot of interesting choices: funny, tough. I like that!

What is your impression of Moscow?

L.: I've been here many times before, but now it is a bit more modern, it's been cleaned up a lot especially around the river. I think it is more modern and obviously it is beautiful at Christmas. I love Moscow and I am always sad to leave. It always feels like I am leaving too early. The same thing today – it feels like I should stay for another week. Next time I will see you hopefully soon.

Do you like our hotel and what is important to you on your journeys?

L.: I like the hotel. It's been great! I have not seen much – just my suite, which is beautiful, and I've seen the breakfast area. What is important to me is that I can have some time by myself also. Personally because a lot of times there are some fans around and then I can't relax. But this trip has been good because I had some in the banya and I have some time away – a little business and pleasure. I relax very much and I hope I will do it even more next time.