Contact Us
12 Krasnopresnenskaya Embankment, Moscow, 123610
Ask a question
INNOVATIONS: advantages and prospects of the blockchain technology were presented at WTC Moscow
12 July 2017
On July, 6 the blockchain developers presented their product at World Trade Center Moscow. Qtum specialists: Xaguang Dai Patrick, Jixuan Lee, John Siaina, Meihuang Gong, as well as the representative of the 'Scientific Breakthrough' Fund Oleg Krasulin spoke at the meeting, where the guests gathered both on-line and personally.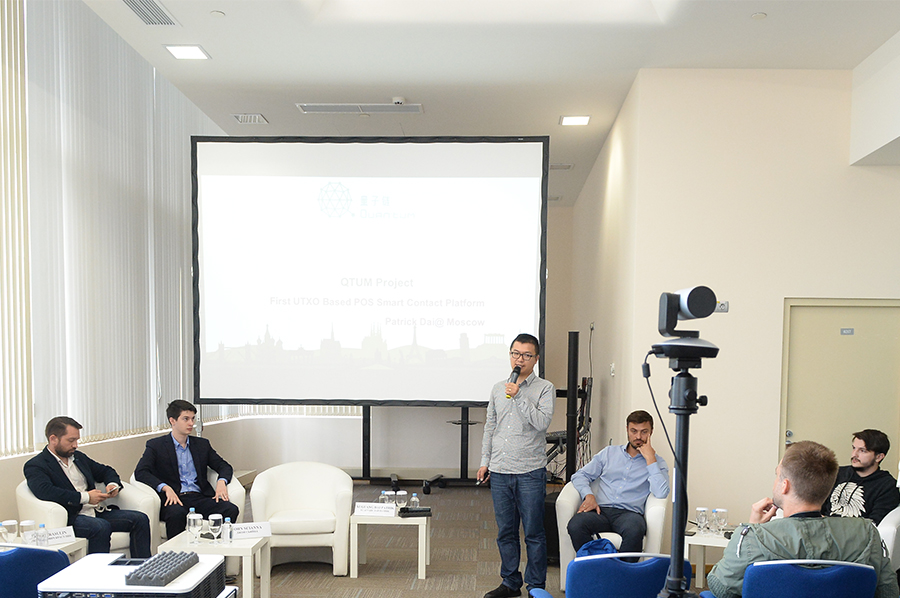 The presentation began with a welcoming speech of Mrs. Maria Trubnikova, Director of the International business cooperation and public relation department of WTC Moscow. She noted that the WTC organized events targeted at new interesting projects and at establishing contacts with people who made a significant contribution to the development of international business cooperation. 'And our meeting is a proof of this. Our guests are people, whose developments are not just predicted to be the future, there is a point of view that this is our common future. The blockchain has its supporters, there are also skeptics, but it is undeniably a serious breakthrough, a phenomenon that requires a very serious approach and careful study. I hope that our meeting will contribute to this.'
Mr. Oleg Krasulin, representative of the 'Scientific Breakthrough' Fund, speaking about the formation and promotion of new technologies, said that the Fund helped young ambitious specialists who were involved in development of technologies.
Rules of the blockchain operations were described by one of its developers, Qtum leader Patrick Xaguang Dai. He explained that the project was based on an international collaboration. The new system allowed fully controlled financial transactions, including the targeted use of funds and, importantly, prevention of non-earmarked costs.
Modern banks 'work as one large spreadsheet', in which all transactions are recorded. The blockchain is quite different - it is decentralized. The new technology uses an algorithm that does not depend on the mining capacity, consuming a huge amount of energy. This approach speeds up operations and makes processes more efficient and economical. But, perhaps, the main advantage of blockchain is that 'it can't be hacked'. If the information has got into the system - it remains there unchanged.
The idea of Qtum is to fuse Bitcoin and Etherium by combining the best elements of the both projects. Blockchain will act not only in bitcoin transactions, but also in larger projects. Developers strive to make such transactions accessible to any person. Today such technology is seriously considered at the state level in many countries, including China.