Contact Us
12 Krasnopresnenskaya Embankment, Moscow, 123610
Ask a question
INTERNATIONAL COOPERATION: The issues of economic cooperation between Russia and the Czech Republic were discussed at the Forum in the WTC Moscow
1 December 2017
A delegation of 140 representatives of business from the Czech Republic headed by the President of the country Miloš Zeman arrived on November, 22 at the World Trade Center Moscow to participate in the Russian-Czech Economic Forum. The event was aimed at strengthening trade and economic cooperation between two countries.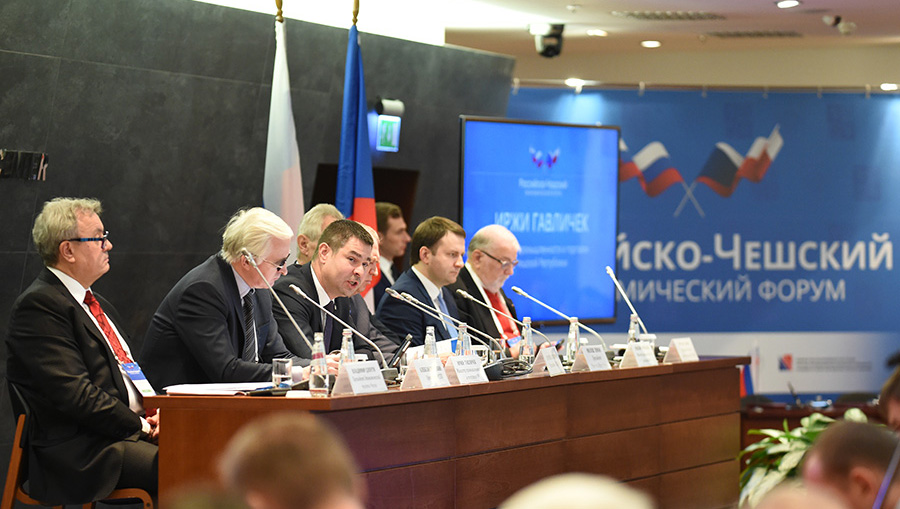 The day before Miloš Zeman had a meeting with the Russian President Vladimir Putin where both leaders noted that the Russian-Czech relations were developing, and despite all the difficulties the volume of bilateral trade had increased by more than 40% in the first nine months of this year.
The main event of the Forum's program was a plenary session after which the negotiations took place between Russian and Czech entrepreneurs in the B2B format. The TOP-managers of nearly 100 companies from a wide range of industries including multi-sectoral engineering, technologies and equipment for the agro-industrial complex, energy, transport, tourism, pharmaceutics, construction represented the Czech side at a meeting. In the framework of the Forum nine agreements on cooperation were signed.
It was the second Russian-Czech forum that took place at the WTC Moscow in 2017. The previous meeting was held on May, 29 and was attended by the Minister of Industry and Trade of the Czech Republic, Jiří Havlíček.
After welcoming the Forum participants the President of the Czech Republic Miloš Zeman told about the current situation in the economy of his country, in particular noting power industry, aircraft construction and machine building, which according to him, deserve attention and development. The President of the Czech Republic stressed that during the Forum at the WTC Moscow the contracts, the total amount of which exceeds CZK 20 billion, were to be signed. Later in Ekaterinburg it was planned to conclude four more agreements.
The Minister of Industry and Trade of the Czech Republic Jiří Havlíček said that the mutual trade turnover between our countries had grown by almost a third. Czech enterprises are trying to achieve localization of their production facilities in Russia.
At the end of the plenary meeting, as it was planned, there were ceremonies of signing agreements on cooperation between representatives of Russian and Czech business. The list of enterprises that have thus confirmed their intention to strengthen economic ties includes key industrial facilities of the two countries.