Contact Us
12 Krasnopresnenskaya Embankment, Moscow, 123610
Ask a question
Vadim Subbotin's interview on the WTC Moscow's cooperation with CCI and REC, on WTC's new project
6 February 2017
Nowadays export of Russian goods represents one of the priority issues of the national economy. As such, it needs to be promoted and provided with the necessary tools. This was the main theme discussed at the forum "Made in Russia", organized by the Russian export center (REC) in the World Trade Center Moscow (WTC Moscow), as well as during the Presidium meeting of the Presidential Council for Strategic Development and Priority Projects. The President Vladimir Putin supported the idea of Sergei Katyrin, president of Chamber of Commerce and Industry of Russia (CCI), that the system of chambers should be defined in the regulatory framework as an institute for entrepreneurship support, including export-oriented business. Today distribution of Russian production of small and medium-sized businesses is generally limited by local markets. Therefore, we need a mechanism that would facilitate search of small and medium business products across the country to promote them on foreign markets - this was the summary of the Presidium meeting.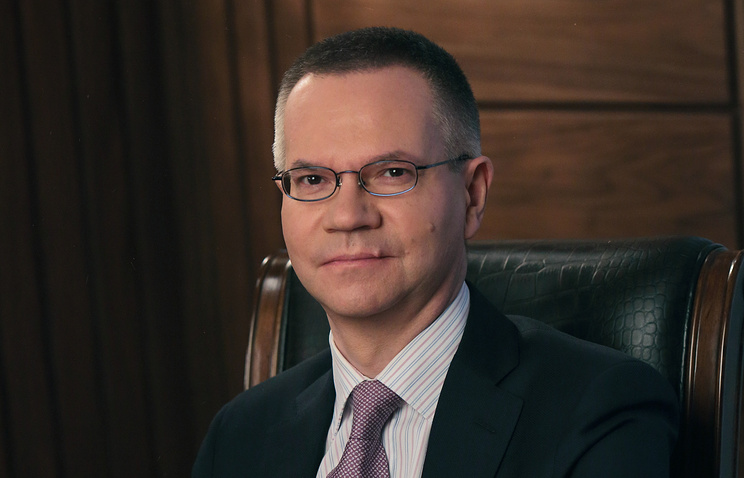 WTC Moscow can play an important role in this mechanism. It should not come as a surprise that the Center offering congress, exhibition, office, hotel and restaurant services in the center of Moscow, may be a link in the chain of export promotion of Russian products. According to Vadim Subbotin, Deputy Director General for Finance and Commerce, WTC Moscow's opportunities are much broader and extend far beyond Russia.
— A quadripartite agreement on export promotion of products was signed in October 2016 between WTC Moscow, the Expo Center, Russian Chamber of Commerce and Industry and the Russian export center. What is the role of WTC here? How do you see your company in the conglomerate?
— Cooperation between the REC, the CCI, WTC Moscow and the Expo Center commenced long before the development of a joint action plan for 2016-2017, and signing of agreements of various kinds, thus the quadripartite document was a logical continuation of our practical cooperation. For example, in 2015 REC held a large-scale event dedicated to export opportunities in Russia. WTC Moscow served as general contractor and venue of the event, while Chamber of Commerce not only participated in the event but was closely involved in its organization.
Russian CCI, REC, WTC Moscow and Expo Center - structures with a huge long-term experience in the Russian market with a good reputation abroad and status of reliable partners, and what is most important, they are "out of politics". Our interaction provides a complete range of services to a potential exporter. In particular, Russian export center has its financial institutions and export insurance systems; Chamber of Commerce and Industry provides comprehensive support to businesses, unites regions with a huge army of business; "Expo Centre" - being one of Europe's leading exhibition centers - holds about 100 large-scale exhibitions, mostly international; and World Trade Center Moscow is suitable not only for large-scale events, but also for business missions, presentations, negotiations and meetings in a relaxed atmosphere in a restaurant or banquet hall of the Center. The WTC annually hosts a number of international events, industry-classified conferences, including those of REC, with the participation of top public and government officials, leading experts, business and public organizations' representatives. Another important line of WTC's activity - development of international relations through its membership in the World Trade Centers Association as well as analysis support, advisory services and consultation.
Our quadripartite partnership includes research and analysis work, i.e. country and market research, organization of joint trade and business missions, exhibitions, fairs, business and educational events, events supporting regional export-oriented business. Many joint efforts are to be made in 2017 on organization of the All-Russian Day of Brand and the annual International Export Forum "Made in Russia", which will be held on the premises of WTC Moscow and Expo Centre.
Speaking about WTC and REC cooperation, I cannot miss out the fact that the representative office of the Russian export center is located in one of the Office Towers of World Trade Center Moscow.
— What difficulties in the field of export led to necessity to organize such quadripartite cooperation?
— It is obvious that the current world market is glutted with supply, competition is growing, many states and relevant institutions are investing huge amounts of money and resources in export support in order to seize the market entirety, or at least to occupy one niche in the market, that would be stable. Therefore, establishment of the Russian export center was a landmark event. The government formed out export support into an independent line of business. Of course, I am not talking about just large-scale raw material export, in which we succeed, but about export of manufactured products as well. While we were exporting natural resources, many countries were busy with development of new technologies and production, capturing global markets, without having any raw materials or resources. Now we are trying to play on the field, which has already been divided among the players, therefore we need to work out new approaches, to enter markets of different countries - both developing and developed, with our products.
Taking into account that even big Russian companies have difficulty entering external market, small and medium size businesses face even greater problems here, not to mention those who have no idea how it should be done in general. Moreover, those exporters who are just trying to start up their export business find it rather difficult to choose a trustworthy and reliable agency from the huge number of existing ones, because many of such agencies offer their assistance and services without having enough experience to solve individual problems. Our aim here, and by our I mean REC, CCI, WTC Moscow and the Expo Centre's, is to develop measures to support medium and small business the way the Russian Union of Industrialists and Entrepreneurs does with large scale businesses - unites and supports them, addresses their issues. However, efforts of other structures are also needed. It is necessary to define which other institutions can be helpful in development of Russian exports.
— It was quite unexpected to find out, that apart from facilities, WTC Moscow provides research and analysis services for exporters. Which department is responsible for that work?
— The Department of International Business Cooperation is responsible for this issue. An important part of our activity comprises joint promotion of export projects of Russian companies, seeking foreign partners upon request, analysis of prospective markets for products of Russian manufacturers, analysis of local competitive environment and potential demand, as well as the assessment of the export potential of the goods of Russian manufacturers. As you can see, WTC is ready to provide support at any phase of product output to foreign markets.
— Let's take an example. An exporter who is considered as small or medium size business, addresses WTC Moscow. What package of analytical and consulting services are offered to him?
— First of all, we try to understand the needs of our client; in what specific area he needs our help and assistance. Since 1974 WTC Moscow is a member of World Trade Centers Association, which unites 322 WTCs and more than 750 000 companies in 89 countries. Resources of this worldwide business network are great, and they are all at disposal of Russian exporters aimed at promotion of their products in promising foreign markets. This global network gives its members great opportunities, which become available to our clients-exporters, who are eager to promote their products on foreign markets, as soon as they address us. Our competitive advantage is that "we know the right people" in the local markets, and introduce them to our companies. This is a very important aspect in the development of cooperation when middle and especially small businesses are starting their export activities. Initial stages of development of export activities require awareness, realistic evaluation of target market and potential partners.
For example, export-oriented small business knows exactly what markets it wants to enter. Therefore, they need to study those markets, their competitive environment. They need business contacts. That is exactly what World Trade Center can do – introduce information about the markets, provide direct business contacts, assist and consult. We put this assistance into effect through the "principle of reciprocity" - one of the key principles of the World Trade Centers Association. Our WTC-partner, residing at the target market of the potential export, will help our exporter to prepare for entering the target market (finding a partner, analytical materials on the market, organization of business mission etc.).
At the same time, we get about 100 requests annually on business partners search from other WTCs. Russia is very attractive to local players from abroad: they are looking for projects to invest in, or for partners with whom they can establish a joint venture. Thus, we search for partners and establish direct contacts on the Russian market upon such requests.
In the near future we are launching a new project, which has to do with intellectual property and is directly related to the subject of export. A product becomes competitive when it has a recognizable brand, when intellectual property is protected. Often, new product samples are exposed before they are registered or receive a patent. We know cases when the right of ownership had been stolen. But, when an exhibitor has a patent he can present his products or services, reach agreements and sign contracts without any risk. In case of a dispute, existence of the registered copyright will bring the conflict to your benefit.
Unfortunately, statistics show that the contribution to the intellectual property in the Russia's GDP is inessential. So now, we want to gather those who possess intellectual property, teach them the specifics of foreign markets promotion, and provide them with the necessary information to create new intellectually demanding products.
On a regular basis, we collect data on what difficulties people face when registering intellectual property or receiving a patent. We are preparing an educational program and trying to gather those who are interested from all regions. A distance-learning program is being developed as well. Initially, education will be free of charge. Further, in the stage of individual consultations, which will be provided by experts, we will determine a price schedule.
— Do not your initiatives repeat the work of CCI? Which special resources does your WTC use while searching partners for entrepreneurs?
— All "smart" World Trade Centers interact with chambers of commerce in their countries. CCIs exist almost in all countries in the world. It so happened that the Chamber of Commerce in Russia is the main shareholder of WTC Moscow. So, we win twice.
— How your WTC is planning to participate in the promotion of the brand "Made in Russia", development and registration of which was undertaken by the Ministry of Industry and Trade of Russia and the Russian export center? It is important, that last November WTC Moscow hosted an event with the same theme.
— I would like to begin here by saying that the idea to present combination of words "Made in Russia" as a brand is very good and it revives the traditional brand "Made in USSR". For a long time the mentality of Russians experienced a "disease" called "all imported goods are the best goods." Nowadays our market is full of domestic goods, with the quality not inferior to imported ones. Prices for Russian goods however are much more attractive.
Actually, the term "Made in Russia" has been used for a long time now, however it was not within any nation-wide concept. Thus, for many years in a row the Kremlin Palace holds a forum titled "Made in Russia", where domestic goods producers present their products. However, the event was not focused on export, but on import substitution.
WTC Moscow joint the trend past November by supporting «Made in Russia» Forum, that was held here in our Congress Center. The event gathered all producers who reckon not only on domestic market but also on export. The main task today, in my opinion, is to create a maximum of products under the brand Made in Russia, which would be recognized abroad, and spare no funding for their promotion.

TASS, Nadezda Gerashenko 18.01.2017, 12:00