Contact Us
12 Krasnopresnenskaya Embankment, Moscow, 123610
Ask a question
WTC Moscow awarded for best event-project
24 October 2016
World Trade Center Moscow together with the R.I.M. Porter Novelli Agency received a "Golden Puzzle 2016 – the best event-project" Award for organizing the best business event of the year – The 33rd IASP World Conference. The award Ceremony was held on October 18, 2016, in Moscow.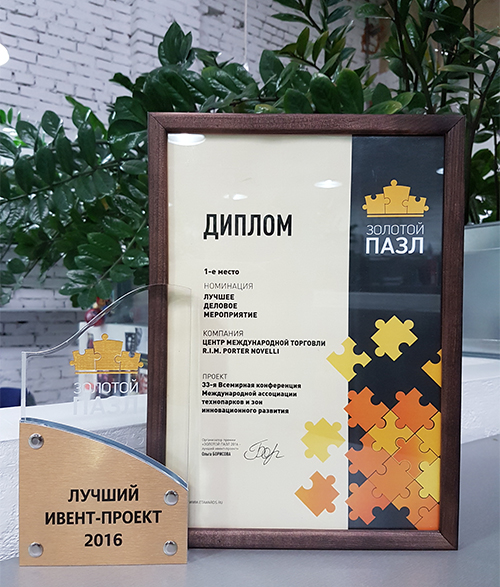 National Award in the field of event organization "Golden puzzle - the best event-project" is adjudged for creative achievements in the sphere of specialized events and event marketing. This year's ceremony, which saw its seventh edition, gathered authors of the best event-technology projects. This time winners were chosen in 20 nominations.
Criteria that defined winner in the nomination "The best business event" were the following: original (unique) technical solutions related to the business culture of the Customer; achievement of objectives; communication effectiveness; the level of implementation of the project; effective project budgeting and resource optimization; colorful presentation of the project.
In 2015, WTC Moscow received the "Golden Puzzle 2015" Award for organizing the most large-scale wedding of the year.
________________________
The 33rd IASP World Conference was held 19 to 22 September 2016 at the World Trade Center Moscow. The event was attended by the Prime Minister of the Russian Federation Dmitry Medvedev, Deputy Prime Minister of the Russian Federation Arkady Dvorkovich, Moscow Mayor Sergei Sobyanin, as well as prominent world experts who not only shared their experiences, but also presented business models for development of industrial parks, new features of start-ups and companies integration into the market, etc. This year's Conference was the largest in the IASP history - it gathered over 1,700 participants from 74 countries, 69 speakers attended 19 sessions.